About Us
Using regenerative agricultural practices we know our meat is the cleanest, healthiest beef, pork and lamb you can get in Alaska.
About Blue Creek Livestock LLC & Our Family
Ranching is in our blood. Our story began in Idaho. Tangy was born in 1982 on a working Cattle ranch/ farm in Saint Anthony Idaho; this is where her love of agriculture was born. Her family farm was like most in rural Idaho, it was small but diverse with a 75 cow dairy, 250 cow calf pairs, hay and grain. It was a family affair with all hands on deck.
Tangy spent her childhood summers living in the forests and desert of southeast Idaho with her grandmother who was the range rider for their cattlemen's association. She started her own cow herd at the age of 13 by feeding and calving her uncle's cows one winter when he had to have a hip replacement. As payment she was given her first heifer.

In 2003 Tangy married Matthew Bates. Matt also has a love of agriculture. He grew up on a small Jersey and Milking Goat operation. He also had the hobby of working with draft horse competitions in the state. He started working on Tangy's family ranch when he was 16. In 2006 they added a meat goat operation with 300 nannies. They were shipping 500-700 meat goats a year to Chicago. By 2009 Tangy and Matt had taken over her family farm. Goats were eventually sold down to only a few and the focus was put in their cattle. Tangy was left with full responsibilities of the farm when Matt left for work in North Dakota in 2012. At this time Tangy went to school to be an artificial insemination technician. Her instructor soon hired her to work for Genex Inc, breeding cows on a commercial bases. From 2015- 2016, she worked for Paradise Grove Dairy, a commercial dairy, restructuring from 600 milk cows to a 60 cow raw milk dairy, selling raw A2/A2 milk to local farmers markets, host homes, and grocery stores.
In 2015 Tangy and Matt decided to move to Alaska. They saw a great opportunity for new farmer/ranchers in the state given its rich soils and raw lands. Discover how they are building their soils here.
In 2016, they sold their farm to Tangy's brother and their Alaskan adventure was underway. They sold all but 45 beef cows and 15 dairy cows. In September 2016 the cattle along with goats, rabbits, horses, and three young boys had made the move to their new farming adventure here in Delta Junction, AK. This is how Blue Creek Livestock LLC started, with a hope and a dream. They want to provide their community with fresh, natural meat: "Every day is a learning curve with lessons for us to learn, but we love it here.
Since the beginning Blue Creek Cattle has been building soils and herds. Read more about their animal husbandry practices here.
100% All Natural
We feed our animal pure, high nutrient locally grown fodder that keeps the meat tasting sweet.
Local
All our animals are born and raised on our ranch in Delta Junction, Alaska.
High Quality
Because of our breeding and feeding programs, our meat has a superior finish and clean, sweet taste.
Always Fresh
Born, raised, and butchered in Alaska, the meat is as local and fresh as you can get on the market
All good food begins with a love story between a farmer and their soil.  Since purchasing the farm in 2016 we have focused our soil practices on regenerative soil development. Regenerative agriuclture focused on improving soils through best practices and technologies that focus on revitalizing the soils.
The end result is health soil the sequester carbon and builds soil that is capable of producing higher yields, which lends itself towards a more prosperous farm, helping to build food resilience in our remote community. 
Our approach incorporates concepts including permaculture permaculture and organic farming practices. On our farm, this includes using common principles including conservation tillage, cover crops, crop rotation, composting, mobile animal shelters and pasture cropping.
Learn more about the theory behind our practices at Washington State University.
We raise Beef, Pigs, Sheep, Goats, and Dairy Cows on our ranch. It is a full-time job keeping the herds healthy, fed, and fussed over.
Lamb Operation
Our lambs are a diverse mix of meat and wool breeds bred to thrive in our tough Alaska winters.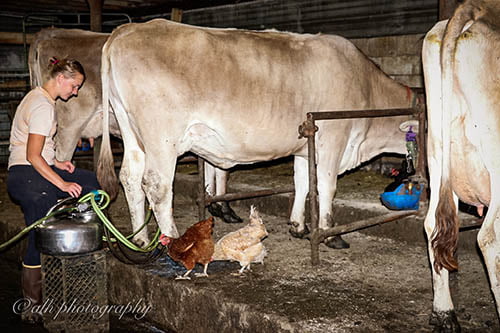 Milk Operation
We prefer to milk Brown Swiss and Guernsey Girls. We love working with this very amicable breed known for their rich milk and sweet demeanors. Breeders available for sale. Call for availability.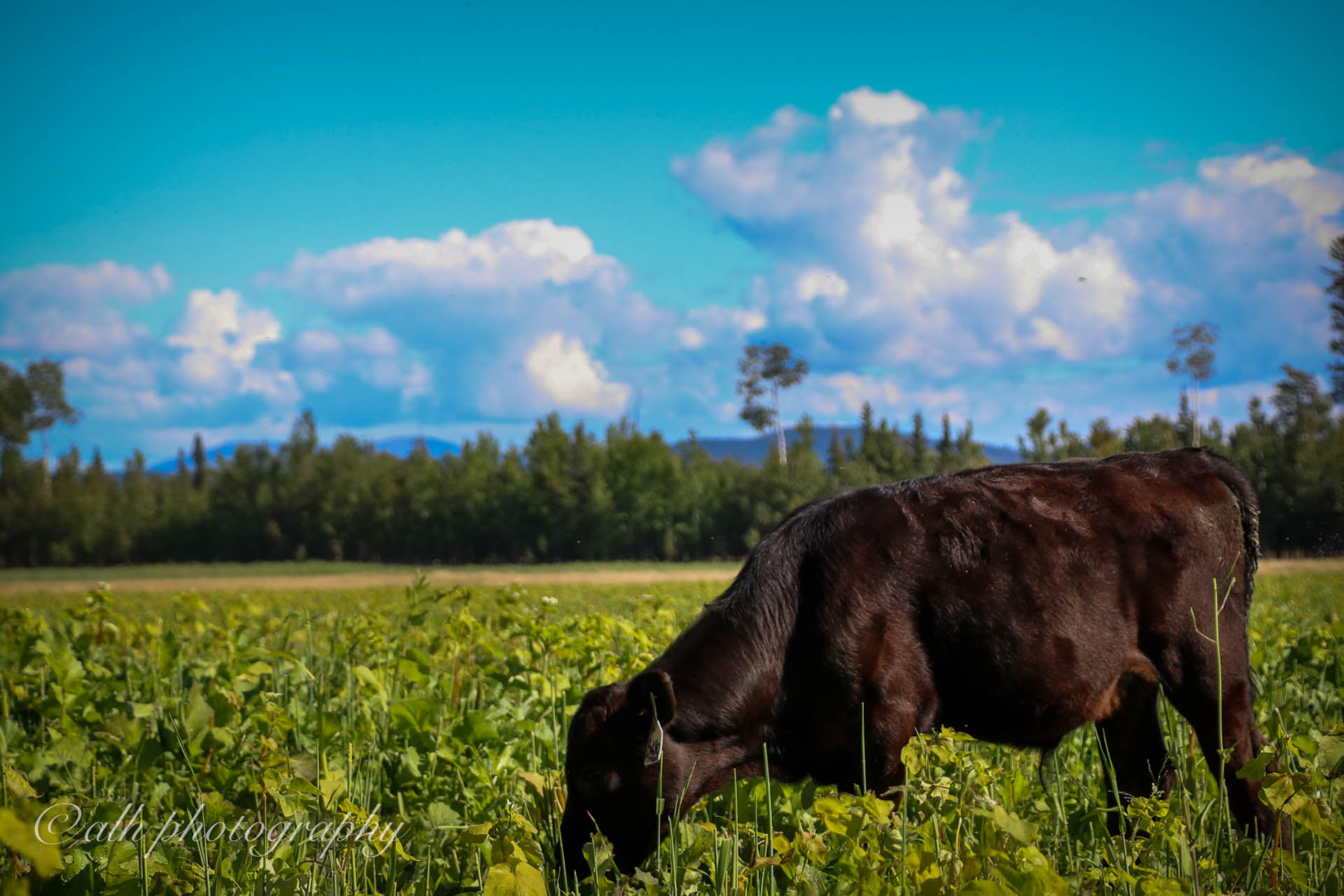 Beef Operation
Have you ever heard of Murray Grey beef cattle? They were developed in Australia as an angus-shorthorn cross which gave them resistance to parasites and heat. They do exceptionally well in Delta Junctions frigid north. We are excited by this breed because the marbling more closely resembles that of the Asian style, Wagyu, with marbling throughout the meat. We are breeding the Murray Grey into our Angus and Semmintal lines for a superior beef product.  We finish all our animals on our ranch.
Swine Operation
We have a variety of breeds in our operation including Tamworth, Berkshire, Yorkshire's and Old Spots to improve the flavor and herd health. It's just one of the many small steps we take to make superior products for our customers.
Feeding Practices
In Winter 
Delta Junction is known for its long, harsh winters. To keep our breeding stock healthy, we've adopted a diverse feeding system. We've been utilizing a fodder system since we moved up to Alaska in 2016. We brought the system with us from Idaho. The fodder system allows us to feed fresh nutrient rich sprouts to our livestock, keeping them healthier through the long winters we have here. Running a fodder system is a labor of love that shows in the incredible taste and finish of our meat.
Winter feeding time is an undertaking at our ranch. Hay, grown in summer on our newly rejuvenated fields is a sweet reminder of long sunny days and lingering warmth. It is a chore, but some chores have their sweet moments. In addition to sprouted barley and hay, we also feed the animals chopped barley grain from a local supplier in Delta Junction. 
In Summer
Our feeding transitions in the summer to having our animals put out  on cut grass. We use a system of rotational grazing between bhrome grass fields and feeding them out on a 12 way cover crop that includes clover, buckwheat, collards, sorghum, millet, barley, oats, forage pea, and sunflower. This cover crop not only improves soil health, but makes sure our animals are getting their protein needs from their forage.
Bucket Calves Program 
We are all about inspiring young folks to learn about animal husbandry which is why we started the Bucket Calves Program three years ago. Kids who want to learn how to show calves and learn about animal handling work with our stock and show them locally at the Deltana fair in late summer. We do this free of charge because we hope to inspire the next generation of cattlemen in the state.
Homeschool Tours
Every spring, we offer homeschool tours and public school tours to our community to provide a greater understanding about tending and caring for animals. Want to schedule a tour? Call us for more details. 
Deltana Farm Bureau 
Matt is the president of the local Farm Bureau and loves helping support all the farmers and ranchers in our community.